Observations
We got the sense that a lot is happening in India right now. As we drove through the mountains from the hustle and bustle of Mumbai, India's financial capital, to the city of Pune, we caught glimpses of the vast construction going on across India's highways. This shows infrastructure is being built as the economy is picking up steam.
Pune was an oasis of calm compared to Mumbai, with more greenery and a slew of tech campuses in the city's outskirts. There, we bumped into a G20 event at the hotel we stayed, which heightened our sense that we were in the thick of all the actions taking place! India's global influence is becoming more visible these days.
Purpose of the visit
Our trip focused on the industrials sector, and at companies that are clearly looking to capitalise on the "China + 1" opportunity, where multinationals are diversifying their supply chain to reduce reliance on China, and thereby increase India's share in global manufacturing. The main challenge is that this is often reflected in valuations although there are still a few companies that are flying under the radar. This was also an opportunity for potential idea generation.
Highlights from our visit
We met some standout quality names in the large cap space, including a home improvement business that benefits from urbanisation trends, and the country's leading non-bank financial institution that has grown at a rate of around 30% annually for at least a decade.
Among small caps, we met some promising names too including an IT-related business focused solely on serving the auto industry that is seeing good growth momentum as it wins new clients. While we do not hold these names currently in our portfolios on valuation grounds, we will keep them on our radar.
In all our meetings, there was universal enthusiasm towards the government's pro-growth policies, with one CEO telling us that, "In the past, India grew in spite of the government, but today we are growing because of the government." Quite a powerful statement, particularly in EM!
Highlight: ABB India – All Switched On
ABB India is a power engineering company in India that has a diversified portfolio and benefits from localisation efforts as having its manufacturing base set up in the country reduces FX volatility. The company has exposure across infrastructure development in railways, power including renewables, electrification, energy efficiency, automation and more. Compared with the other companies we met on this trip, ABB India seems relatively better placed. The CEO told us ABB India is optimistic about the current industrial capex cycle in India and expects future growth to come from lower-tier cities. We were pleased to hear ABB's business has benefitted from an expansion in the addressable market and the demand for better supply chain security. The strength of its orderbook is driven by the increased breadth in corporate projects. India's best industrial play? ABB India increasingly looks like a catch all name for the infrastructure developments taking place in India, supported by favourable government policies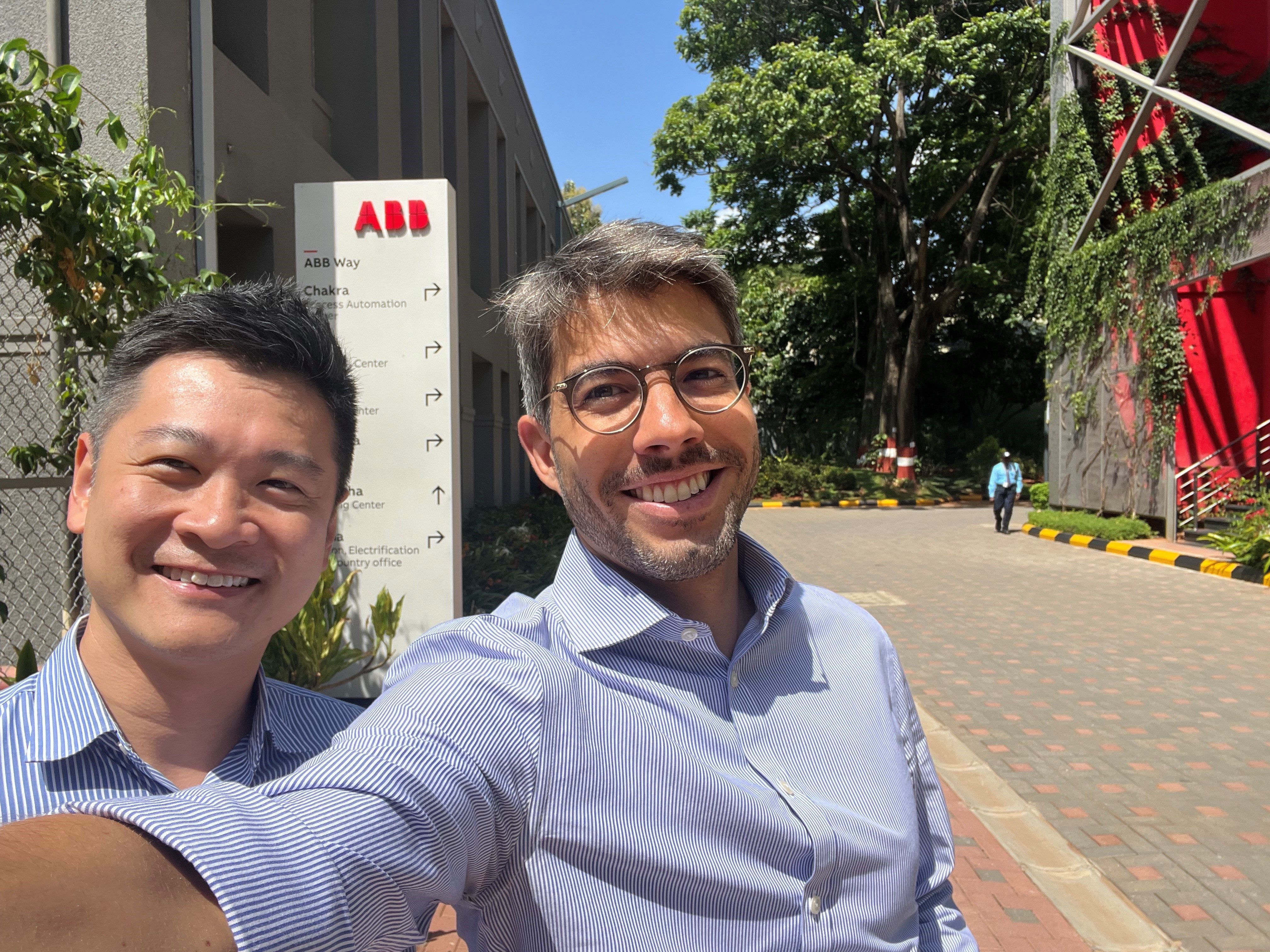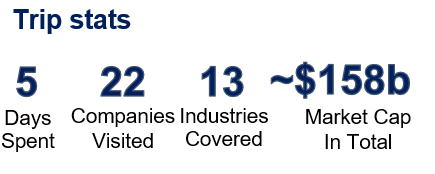 Syngene: An outsourcing success story?
Syngene International is a leading contract research organisation serving both pharmaceutical majors and biotech start-ups. In our meeting, the company CFO sounded positive about outsourcing demand from clients, with more large pharmaceuticals offsetting softer biotech demand. We were pleased to hear the company is seeing a 10% to 20% increase in its customer base.
As a credible outsourcing partner, we expect the company to benefit from demographic trends in India and from supply chain shifts that should give Syngene ample opportunities to grow in scale and capabilities. The company is shifting its business model to invest ahead more for smoother capacity expansion in the future.
On talent acquisition, it was encouraging to hear the company is getting the right people for the job and equipping them with the necessary skills through its robust training programs. While some of the talents are being poached, with attrition in the high teens, it is still a ringing endorsement of Syngene's training programs.
"It's rare to hear the private sector praise governments on our research trips across Asia & Emerging Markets, but this was the case during our time in India. We got a real sense that this is India's time, and that the government is doing all it can to drive growth."
Gabriel Sacks, Investment Director
"Mumbai's state of chaos is an illusion for the perception that India's bureaucracy makes it hard to build infrastructure. While it will not be a straightforward journey, Indian cities are seeing a lot of infrastructure development, which is an important foundation for the economy."
Ng Xin-Yao, Investment Manager
Outlook
The macroeconomic picture in India continues to provide a favourable backdrop for the portfolio and its holdings. The Indian economy in the early stages of a cyclical upswing and is currently one of the fastest growing economies in the world, supported by a resilient domestic macro environment. Government policy remains supportive with sufficient fiscal discipline to not worry investors. Inflation has eased in recent months, which has pushed the RBI to pause on rate hikes. Retail sales growth has been on an upward trajectory. All of this is helping to sustain attractive earnings growth and a recovery in ROEs.
Whilst the macroeconomic picture for India looks attractive, it is never without risk. The country's external balances remain vulnerable to high energy prices – India is a net oil importer. A potential recession in the US would also weigh on the export sector. We expect our core quality holdings to continue to deliver resilient compounding earnings growth over the medium term, come what may in terms of macro conditions. Fundamentals, including pricing power, strong balance sheets and the ability to sustain margins remain solid. We further maintain confidence in the experienced management teams of these companies.
Longer term, India remains an attractive investment opportunity, with a large consumer market, a predominantly young population, an expanding middle class with rising levels of wealth and disposable income as well an increasingly digitalised economy—with over 400 million internet users and rising.
Important information
Risk factors you should consider prior to investing:
The value of investments, and the income from them, can go down as well as up and investors may get back less than the amount invested.

Past performance is not a guide to future results.

Investment in the Company may not be appropriate for investors who plan to withdraw their money within 5 years.

The Company may borrow to finance further investment (gearing). The use of gearing is likely to lead to volatility in the Net Asset Value (NAV) meaning that any movement in the value of the company's assets will result in a magnified movement in the NAV.

The Company may accumulate investment positions which represent more than normal trading volumes which may make it difficult to realise investments and may lead to volatility in the market price of the Company's shares.

The Company may charge expenses to capital which may erode the capital value of the investment.

Movements in exchange rates will impact on both the level of income received and the capital value of your investment.

There is no guarantee that the market price of the Company's shares will fully reflect their underlying Net Asset Value.

As with all stock exchange investments the value of the Company's shares purchased will immediately fall by the difference between the buying and selling prices, the bid-offer spread. If trading volumes fall, the bid-offer spread can widen.

The Company invests in emerging markets which tend to be more volatile than mature markets and the value of your investment could move sharply up or down.

Yields are estimated figures and may fluctuate, there are no guarantees that future dividends will match or exceed historic dividends and certain investors may be subject to further tax on dividends.
Other important information:
Issued by abrdn Investments Limited, registered in England and Wales (740118) at 280 Bishopsgate, London EC2M 4AG. abrdn Investments Limited, registered in Scotland (No. 108419), 10 Queen's Terrace, Aberdeen AB10 1XL. Both companies are authorised and regulated by the Financial Conduct Authority in the UK.
Find out more at www.asia-focus.co.uk or by registering for updates. You can also follow us on social media: Twitter and LinkedIn.